Spring Cleaning Tips and Tricks
---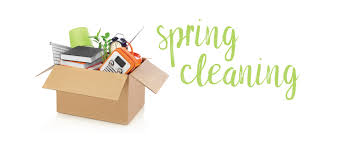 As clocks are set back a hour, snow is melting, and the sun's out it's time to start thinking about spring cleaning your home. Many people dread this because of how daunting the tasks may seem but it is important to do. Just follow the Torres team's 10 tips and tricks to conquer spring cleaning with a breeze!
Make a List- It is necessary to organize before you actually start organizing your home. Scope out the different areas in your home and make a list of everything that needs to be done. Particularly focus on areas that may be skipped during a routine clean. A easy way to get organized is go room by room and make a checklist.

Start from Top and Work Your Way to the Bottom- What we mean by this is always clean ceilings first and work your way down. This way any dust and debris above will be forced down and will keep you from backtracking and re clean or re dust an area.

Clean Air- A lot of people overlook replacing their furnace and HVAC filters. After a running furnace all winter it is a great idea to replace the filter. This way you are ensured healthy spring air!

Declutter the Home- Get rid of random junk laid around your home. This could mean donating old winter clothes or going through all your cabinets and tossing out things you haven't touched in years.

Scrub- Scrub all the walls in your home; kitchen, bathrooms, bedrooms, etc. Use a brush or sponge with some soap and water. Don't forget to scrub the baseboards too!

Lemon and Vinegar- These two go hand in hand when it comes to cleaning faucets and shower heads. Use a lemon to remove water stains and and soap scum. Use part vinegar and part water and soak faucet aerators, showerheads, and sink sprayers for an hour and then rinse them with warm water.

Streak Free- When cleaning windows and mirrors a good way to prevent streaks is to use newspaper to clean with! Just dip your newspaper into the cleaning solution and wipe away.

Dryer Vent- If the dryer vent is clogged it can be a potential fire hazard. To clean it remove the vent from the back of the dryer. Remove all the lint. Go outside and also remove lint from the other side of the vent line.

Clean Out Gutters- Winter can leave the gutters clogged with debris and even damage it. It is critical to remove all debris or you could be dealing with roofing, siding, and foundation issues in coming months!

Take Your Time- Don't rush through spring cleaning. It only comes around once a year and it is supposed to be thorough and time consuming.
Happy Cleaning!
Ayeesha Ali